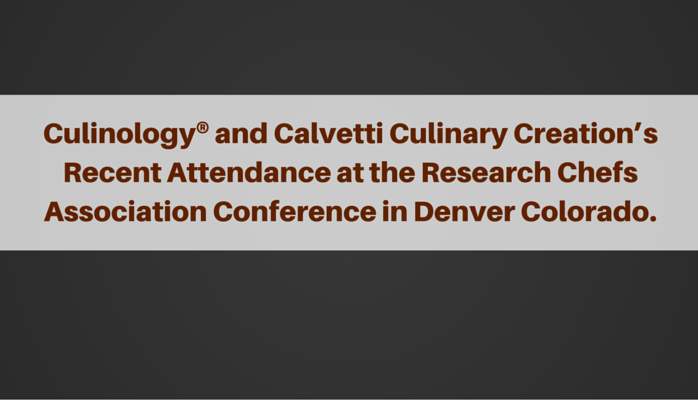 This post was first published by Jamie Calvetti on LinkedIn

Culinology® and Calvetti Culinary Creation's Recent Attendance at the Research Chefs Association Conference in Denver Colorado.
To further our commitment of providing our customers with fine restaurant-quality meals for an extraordinary dining experience, we wanted to know more about the concept referred to as Culinology. A few weeks ago, Calvetti Culinary Creations attended the Research Chefs Association conference in Denver, CO, and we could not have been more impressed. Not only did we network with a group of incredibly friendly people and enjoy some superb food and beverages, but we were also educated on the trends occurring in the food industry. I'd like to share with you some of the key takeaways from the workshops and presentations we attended.
Historically, there are two types of creators in the food manufacturing industry; chefs and food scientists. Chefs typically cook food in a restaurant or hotel. Food scientists study the chemical makeup of food, how it deteriorates and how to process it. In recent years, a combination of these two skillsets has formed a new discipline in the food industry. Welcome the Research Chef, whose main objective is to create a formula or recipe that can be mass-produced in the food industry, using scientific knowledge of food interactions along with new technologies available in the market.
However, a title alone was insufficient so Master Chef Winston Riley founded the Research Chefs Association and created a term for their work: Culinology®. Culinology® is the intersection between the culinary world and technology and the Research Chefs Association (RCA) owns the trademark. To put it simply, it's all of the diverse creations by chefs in the process of fine dining and menu planning. The mission of the RCA is to create the future of food.
Here are a few highlights of our experience at the RCA conference that deserve mentioning:
The generosity and friendliness of the participants in the food industry who were kind enough to share their knowledge.
We thoroughly enjoyed being able to network with fellow food fanatics and found incredible open-mindedness when it came to food; for example, eating toasted crickets or llama meat or foods prepared with liquid nitrogen.
It was amazing to see how the old school style of cooking (Escoffier Era) has evolved to more of a science style of cooking (hence the Culinology® Era). Sous Vide cooking, foaming sauces, freezing with nitrogen, preserving with plum juices and so much more, has made the food industry more interesting and challenging at the same time.
Overall a great experience! We excited to use the concepts of Culinology to bring your dining experience to a whole new level.